The American Freedom Train in Chattanooga, Tennessee
June 7-10, 1976
The train's 87th display city.

The train was displayed at the Chattanooga Choo Choo. This was formerly Terminal Station in downtown Chattanooga, owned by the Southern Railway. In 1972, Terminal Station was sold and converted to a hotel and convention center. Yards away, on another station platform track from the American Freedom Train, was the famous Chattanooga Choo Choo locomotive on permanent display.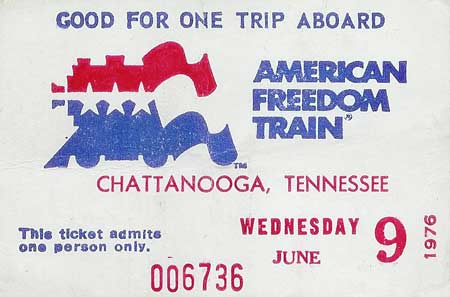 As with every stop, special postal cancels were available at the display site.
According to Chattanooga Stamp Club member Jim Cate, the group had a prominent member that was also an official of the Chattanooga Post Office -- and the group assisted in the Post Office with the philatelic activities of the AFT
Jim is pictured here with his sons in 1976.