American Freedom Train
Showcase Car #40/41
This car held (front to back) a model of the B&O Railroad's Arabian steam locomotive, the Friendship Fire Engine from George Washington's fire company, and a 1904 Oldsmobile.
Image: John Hill. Photographed at Minneapolis.
Please email if you have any additional information.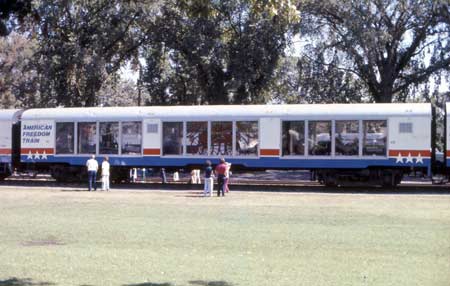 Originally NYC baggage car #9137 or 9152. Scrapped in 1995.
Shown at Columbus, OH. May 1975.
Image: William Brandon, photographer. George Elwood scan.
Before leaving the Santa Barbara stop on Jan 4, 1976, the crew of the host railroad wouldn't move the train unless the train was configured in manifest order. Showcase car 40 was trailing showcase car 41 when it should have been ahead of it. With nowhere to turn the cars and no time to waste, the resourceful AFT crew simply switched numbers on the two showcase cars. 40 became 41 and 41 became 40. They stayed that way to the end of the line in Miami, FL.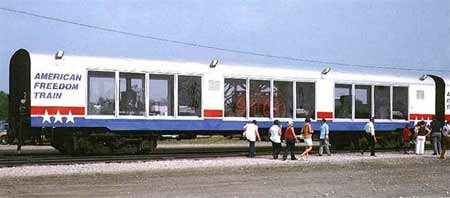 Showcase Cars #40, 41, AFT Entrance/Control Car #100, AFT Display Cars #101 - 110: All were former 9100 series NY Central/Penn Central baggage cars built by American Car & Foundry in 1946 and converted for use on the AFT in Richmond, CA (display cars) and Venice, FL (showcase cars). All of these cars were sold to the National Museums of Canada for use on their Discovery Train (1978 - 1980). Later they were sold to the Union Pacific Railroad and sat on a siding in Council Bluffs, Iowa for many years. They were eventually moved to UP's Blue Diamond (mine) branch line outside Las Vegas, NV where they sat for several years before being scrapped on site the week of August 15, 1995.
The interior of the AFT was designed by Barry Howard & Associates of Larchmont, NY. The moving walkway was produced by The Goodyear Tire & Rubber Co. of Akron, OH. The sound system was produced by By-Word Corp of Armonk, NY. Exhibit fabricators included GRS&W, Inc. of Pittsburgh, PA (who were contracted to outfit Display Cars 101,104, 107 and 109), plus General Exhibits of Chicago, and Design & Production, Inc. of Alexandria, VA