Lost. And Found.
The rediscovery of a Howard Fogg original!
Lost for decades, this original Howard Fogg watercolor of the Freedom Train, one of two commissioned by the American Locomotive Company, has come to light again.
Mr. Larry Taylor and his wife Johnnie were watching the movie Legal Eagles one night when they noticed that the Howard Fogg painting of the Freedom Train on Robert Redford's apartment wall didn't look quite like the Howard Fogg painting they had on their wall...
Click here for this amazing story in their own words.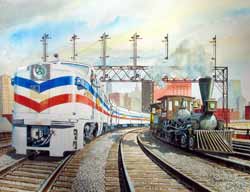 The engineer and conductor on a steam train from a bygone era each wave to their counterpart aboard the massive Freedom Train.
Long lost and never reproduced, this Howard Fogg original watercolor has been found...