Who came up with that word??
The "Webmaster"(?), age 9, (with sister, Tina, age 6) gets his first look at what will become a lifelong interest.
This site was written, designed and executed by Todd Schannuth of Los Angeles, CA for Accuen Media, with personal thanks to Mr. Larry Wines, Mr. Bob Skillman III, Mr. Barry Howard, Mr. and Mrs. John Z Rowe of Mary Jayne's Railroad Specialties, Mr. George Barker, Mr. Barry Scott, Mr. David Pearson, Mr. Lou Nelson, Mr. Jim McCredie, Mr. John Brown, Mr. Carroll Long, Mr. Ross Rowland, Mr. John Finnin, Mr. John Lewis, Ms. Marty Homiak, Mr. Bob Sowers, Mr. Skip Waters, Mr. Ron Goldfeder, Mr. Walter Curll, Mr. Nelson Winterburn, Mr. Tom Nosera, Mr. Kevin Anderson, Ms. Sherry McCullough, Mr. Keith Muldowney, Ms. Linda Hinojosa, Ms. Ariel Gonzalez, and, of course, his parents -- Armin and Alice Schannuth.
Upper photo: Armin Schannuth. Kansas City March 1976.
Lower photo: Linda Hinojosa. Hillsboro, Oregon June 2002.
Bear in mind the camera adds 10 lbs.
And about a quarter century.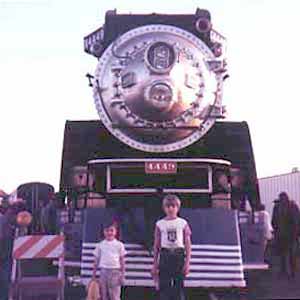 Update 2012: Office wall, finished!
This whole thing started in about 2004. I decided to get the trains out of their boxes and up onto the wall. It sounded so easy.
Skipping ahead eight years: The first two shelves hold a Lionel O Scale 1947-1949 Freedom Train. The third shelf holds an MTH American Freedom Train T-1 locomotive and a custom auxiliary tender made from the tender off a Lionel 4-8-2 Mohawk, followed by the first four cars of K-Line's 2001-2002 American Freedom Train model. The fourth shelf holds a brass O scale 3rd Rail AFT GS-4 4449, followed by an AFT aux tender from MTH, a Lionel BN Bicentennial U28C, and three more cars from K-Line. The fifth and sixth shelves hold an antique brass Max Gray T&P 2-10-4 custom decorated for the AFT, followed by the last 11 of K-Line's 19 AFT cars. Painting the Max Gray model was an eight-year ordeal but, as of 2012, it's all finally on display.